It is said that the Thais eat all day and it is hard to argue with that. Eating is one of life's great pleasures and although the Thais eat sensibly and in small quantities, nevertheless they seem to snack throughout the day. So Street Food In Thailand became what we know it like today to feed all these hungry, snacking Thais on the go.
The steaming woks of the street vendors are a constant stimulation to the appetite, the aromas of one-day sun-dried squid mingling with meats that have been marinating in spices for 24 hours all overlaid with the smell of freshly chopped coriander, garlic, and kaffir lime leaves.
Visitors should proceed with caution when trying Thai food for the first time – it is surprisingly hot. But explore it the visitor must because the richness of a cuisine that has been influenced by China, India, and the West, deserves nothing less.
Thai Cuisine – The Basics
The Basis of Thai Dishes is rice, their word for "eating" being "tahn koaw" meaning to "eat rice", and a typical Thai meal will include this staple, soup, a fried dish, a steamed dish, a salad, and some fruit. All dishes are served at the same time and are eaten in whatever order the diner may choose.
The food is eaten with a spoon and fork, the fork is used to push the food onto the spoon. Soup is taken throughout the meal, unlike the western habit of drinking it all in one go at the beginning of the meal. Salt and pepper are seldom seen on the table, but Phrik nam pla (fish sauce) with lime juice will always come with the meal together with extra chili sauces.
Thai Cuisine – Spices Used
The spices used are important. First up is garlic, coriander (the root, leaves, and stem), salt and pepper, then chilies from hottest to just hot. After this, it is down to the cook to decide on which herbs will best bring out the flavor of what (s)he is cooking, be it fish, meat, or vegetables.
Salads are popular but are not what the western palate thinks of as salads, often appearing as a plate of raw vegetables, cabbage mostly, and slices of cool cucumber (necessary for cooling the hot chilies).
Thai Cuisine – Regional Specialities
Within the country, there are regional specialties to look out for. In Chiang Mai, Chiang Rai, and Mae Hong Son, the visitor can sample fried grasshopper, field rat (better than house rat they will assure you), and various creepy-crawlies.
In the Isan area, the food has been much influenced by Laos and the visitor may be tempted to try fermented black crabs (somtam poo) eaten with sticky rice and the Thai favorite, papaya salad. This latter defies its mild sounding name as it can be very fiery.
Down towards the Malaysian border will be found the hottest curries in Thailand (or so they say), and lots of dishes that include cashew nuts and coconut milk (both of which are staples in the area).
Wherever the visitor eats, there will be an abundance of fresh fruit to follow, melons sliced in easy to eat pieces, mangoes, papayas, mangosteens, lychees, and rambutans in season.
What to Drink with Thai Food
There are no rules about what to drink with what food in Thailand. Many choose beer as the best accompaniment to a hot meal, others go for a mild whiskey. Lots of tables will have bottles of whiskey prominently displayed: a measure will be poured into a tumbler then topped to the brim with water and this will be drunk throughout the meal. (Most Thai restaurants allow diners to bring their own bottles but enquire beforehand).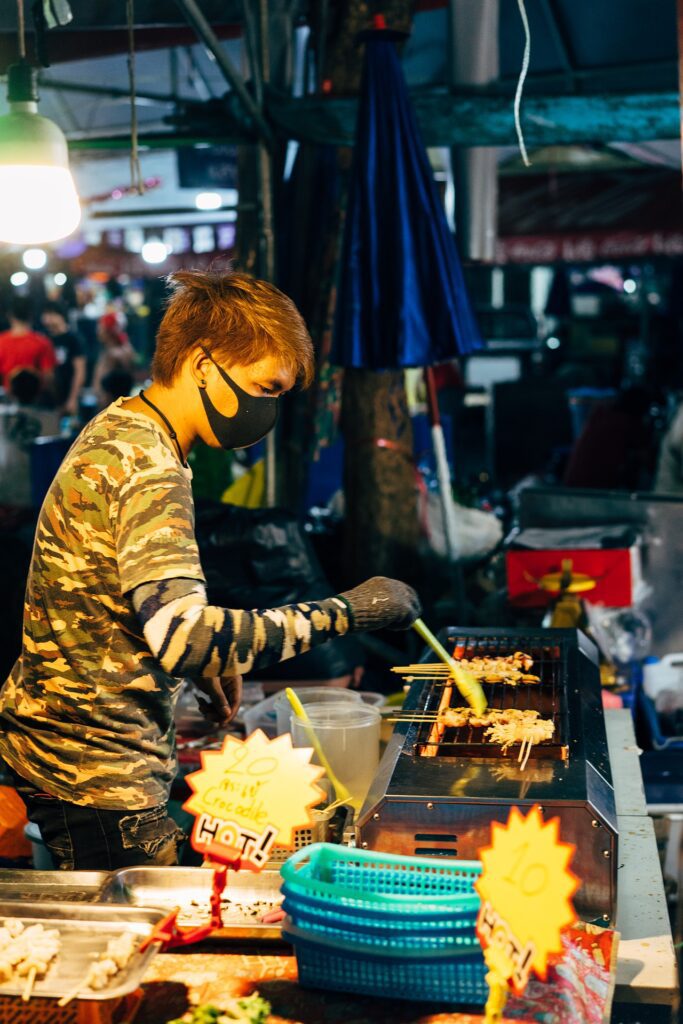 There are few rules in Thai restaurants except that you enjoy yourself. Join the Thais and eat and drink Thai style. Try the different foods, savor the flavors, but be careful. They pack a punch!
Bangkok, Thailand's Best Street Food: Tasty Thai Food Can Be Found On The Streets of Bangkok
Discovering unique local Thai flavors is easy and provides new insights into everyday Thai life.
Citizens of Bangkok can often be found amid the bustle of the city pulling up to a sidewalk table with their friends to eat Thai cuisine. A wide variety of regional dishes and street vendors provide many opportunities to have a quick snack or a longer meal with friends.
Although street food can be found throughout the city, some locations are particularly popular and more accessible to visitors.
Variety Of Street Food In Thailand
Thai food possesses great variety from spicy southern curries to the salads of the northeast. Just about every variety of Thai food can be found on the streets of Bangkok. Bowls of noodles, sticky rice, grilled meats and seafood, desserts, and fresh fruit to more exotic fare ensure that gourmands are never left hungry.
Some street locations specialize in certain dishes, while others are only open at night, or in the morning. Exploring different street food locations will expose travelers to different parts of the city.
Breakfast In Bangkok – Street Food In Thailand
On their way to work, commuters making use of Bangkok's BTS Skytrain will often buy breakfast or perhaps lunch. Although donuts and fresh coffee are available in various locations, most Thai people will purchase small plastic bags of different curries, vegetable dishes, or fried meat dishes.
Deep-fried chicken, spicy omelets, and grilled skewers of pork and squid are also readily available. Many vendors will sell food close to major stops on the Skytrain, with popular spots being the Victory Monument, Ari, Phrom Phong, Silom, and Ratchadamri stations.
In addition to breakfast and lunch, fresh fruits are also widely available. Freshly squeezed orange juice for 15 – 20 Baht can be purchased along with freshly cut mangoes, watermelon, guava, pineapple, papaya, and rose apples depending on the season.
Most fresh fruit will cost between 10 – 20 Baht depending on the fruit and location. Vendors will also hack open young coconuts or prepare a fresh juice smoothie for thirsty customers.
Popular Bangkok Street Food Locations
Street food is ubiquitous in Bangkok which is filled with fresh markets and night markets allowing visitors to eat at any time of the day. These locations are particularly popular for the foods they offer and their accessibility.
Lumphini Park – Between the Ratchdamri and Silom Skytrain stops on the western end of the park, a small parking lot is lined with tables and food stalls beginning in the late afternoon. Standard Thai fare along with Isaan (Northeastern) dishes such as papaya salad (Som Tam), sticky rice, and laab (spicy minced meat salad) can be found. Hot Pot (shabu shabu) is very popular here as raw vegetables and meat are provided for customers to stew.
Central World – Along the sidewalk leading to the Pratunam intersection next to the Central World Plaza, street vendors offer fresh seafood. Snapping clams, iced shrimp, and salted fish being grilled along with Hot Pot is available here from the early evening onwards.
Sukhumvit Road, Soi 38 – Downstairs from the Phrom Pong Skytrain station, the top of Soi 38 offers a night market. Noodle dishes are popular here along with other vendors offering fruit smoothies, mangoes with sticky rice, and other standard Thai dishes.
RCA – One of Bangkok's nightlife destinations, the road outside of RCA is lined with tables and food vendors catering to the post – 2 AM crowd leaving bars and clubs. The food is serviceable and available until late although visitors may be forced to watch people who've had a tipple take a topple while they eat.
Khao San Road – The extremely popular backpacker destination offers mounds of cheap pad thai along with grilled meats, kebabs, fruits, and fruit juices. The food is passable, and the quieter Soi Ram Buttri across from Khao San offers late-night street food for night owls or people with jet lag.
Lumphini Stadium – The road outside of Lumphini Boxing Stadium is littered with vendors selling mostly fried treats to passersby on fight nights. The atmosphere is crowded, and the food quick but interesting.
That's just a small sample of some of the great street food spots in Bangkok! If you'd like to learn more check out our most favorite food vloggers blog about Bangkok Street Food.
Rules For Eating Thai Food On The Street
Bangkok's sidewalks can be grimy and looking at a wash bin of dirty plates may turn a visitor's stomach. Here are two rules of thumb for eating on the street.
Make sure the food is hot and freshly prepared, if it looks like it has been sitting a long time, avoid it.
Places that are crowded indicate the vendor's reputation, and if the locals approve, it means they are not likely getting sick.
These are the 2 main things you should look for when searching for dinner on the streets of Bangkok tonight.
When it's time to eat I head out on the streets of Bangkok for a full-on frontal assault of the senses just for good culinary prosperity.
There's one thing I'm certain about Bangkok's street food scene is that if you're going out searching for street food, you're not going to be disappointed!
Street Food In Thailand: Bangkok Street Food Tour Conclusion:
Street food in Thailand can be found on most street and Soi corners in the Kingdom. Thai people love to eat and it shows in the amazing flavors and aromas of the ingredients they use in daily street cuisine.
Next time you're in Bangkok or any other Thai city for that matter use some of the tips in this guide and go search out some amazing Thai dishes down at your nearest street food cart!
If you're interested in discovering more about the "Land Of Smiles" check out more from our Blog here.