Pattaya City Thailand is the ultimate rollercoaster of a good time. There are also tons of things to do in Pattaya City Beach beside the hundreds of beer bars and gogo bars. That's if you can scrape yourself off the floor of your condo after last night's banger early enough to hit up a few top Pattaya City daytime tourist activities and hotspots.
Pattaya is one of the best destinations in the Asian region if you are one of those who loves clean expansive beaches and monumental places to visit and if you are the type that loves vibrant nightlife, this place is just the right place to quench your appetite.
Pattaya Beach Thailand is very easy to access as you only need about 2 hours drive from the country's capital city Bangkok. It has vast stretches of sandy beaches and incredibly lush flora including a nightlife that you will won't forget in a hurry.
If you are planning on coming down to Pattaya City for a holiday, here are some very interesting tourist destinations that will leave you with a few more memories than Walking Street and the Gogo bars.
A Thing Or Two About Pattaya Beach Thailand
This city is just total fun! This vibrant seafront city shot to the limelight in the early '80s and has ever since remained a tourist attraction for most visitors. From sunrise to sunset, the seashore of Pattaya is constantly overflowing with activities such as water sports and there's most definitely plenty of room for mass sun-worshipping.
And when the sun goes down, you will think that everything goes down as well, but that is not Pattaya, after the sunset, the fun moves to the street as visitors are electrified with the nightlife here in Pattaya where drinking and merry-making last until the early hours of the next day.
Pattaya Beach Thailand Nightlife is know the world round for it's wild discos, go go's and Walking Street.
It's not just the watersport and nightlife that makes Pattaya Beach Thailand a distinct place to visit, This small town offers tourists unlimited opportunities regarding amusement and convenience. it once was a dingy beach town but now grown into a more extensive place to visit; no matter your status – whether you come here as a couple, family, or you are here for business, Pattaya City has somthing for everyone.
If you are planning a trip to Pattaya Beach and you want to see almost every tourist spots that are worth seeing, here are some places that will definitely wow you and keep your camera clicking throughout your stay.
Interesting Places to Wow your Experience in Pattaya City Thailand
The beach is just the first stop for everybody visiting Pattaya City for the first time. And they are the most ideal places to visit if you are a traveler on a low budget or you are unable to go further the South for more adventure
There are several beaches in and outside of Pattaya Beach that can make you forget about your worries in a flash!.
It's a good idea that you start by visiting one or a few of the beaches around Pattaya to see what sort of fun you can find that interests you.
Jomtien Beach
This place once was a paddy field but today, Jomtien has turned into a flourishing beautiful beach. Located 3 kilometers away from Pattaya, the beach is getting more popular by the day because of its quiet and peacefully serene.
This beach is less congested than other beaches in the area. Its clear blue water and golden sand make it a welcome destination for tourists all over the world and another good thing about this beach is that you get the best comfort and accommodations close by without you needing to travel out of the town.
The beach is lined with a coconut palm tree where you can hide under the shades and enjoy your day or you can decide to take a long swim in the beautiful ocean. You can also indulge in other water activities as this is a favorite spot for people who wants to play water sports like windsurfing, and jet skiing.
If you are planning to go to Jomtien with your family, this place offers excellent fun and excitement to everyone as it also offers more fun away from the beach.
Here are some other activities you can do while in Jomtien
Although the beach life offers the largest attraction, however, there are still several places that will give you the excitement you deserve. Some activities you do here in Jomtien cannot be found anywhere else around the world. Take for instance:
The Nong Nooch Tropical Botanical Gardens
This 2.4 sq.km internationally acclaimed award-winning landscaping designs and dazzling range of beautiful plants is located in Jomtien and it's half an hour away from Pattaya Beach Thailand.
With over 670 species of Orchid, this 17th-century grandiose design is home to a regular display of Thai culture and has a recreation of Stonehenge as its centerpiece.
The garden can take a whole day to explore. You can make arrangements for a tour starting in the morning and lasting into the late afternoon. The gardens are divided into a different section, for instance, there is the French garden, the European garden, the butterfly hill, etc
Khao Chi Chan (Buddha Mountain)
This mountain is visibly spotted even from the distance, the image of Buddha carved into limestone hill and inlaid with gold so it can glitter in the sunlight – which explains why its name is translated to "The Buddha with brightness and sublimity"
The carved stone is 130 meters high and 70 meters wide making it the largest carved stone Buddha in the world. Each day a lot of visitors throng here to pay respect to the image to have good luck.
The Underwater World
If you want to see the unique sea life and you are not a scuba diver, the underwater world is a great place to see how sea life looks. The 100-meter acrylic tunnel gives you a remarkable perspective on more than 200 water species including turtles, stingrays, sharks, and sea otters.
Naklua Beach
If you are the type that loves to have local delicacies while you lay back to enjoy the sand, the Naklua beach is just the right place to spend the day. The shore of Naklua beach is littered with local fishermen who are there to provide visitors with fresh produce meant for nearby restaurants. This beach is close to the excitement of the city but still maintains its lay-back serene feel.
This town is renowned for its fishing and salt farming abilities as most locals engage in this trade to make a living.
Today, Naklua offers visitors the feel of ancient times as the homes surrounding this beach are old houses resulting in a far more quiet experience for tourists. There are also fewer hotels and restaurants in Naklua to make the place the perfect place for tourist who wants to have secluded time for themselves and away from the crowd.
Sanctuary Of Truth
This is an awe-inspiring and distinctive sight to behold. The sanctuary is hand-carved from teak and is often in constant repair because the wood used in constructing this giant edifice is untreated and rots during the tropical environment. The reconstruction that goes on in this building is an on-going and continuous task.
The building is remarkable and maintaining the temple brings out the beauty and intricate workmanship that inspire every visitor. The temple is also used as a place to display cultural shows and other exciting activities for visitors.
Pattaya Sheep Farm
This is a special hands-on zoo of fluffy animals which makes it an ideal destination for children particularly for those who dwell in the city and don't have the time to see these kinds of creatures daily. Included in this farm for visitors delights are sheep, ponies, rabbits, pigs, donkeys buffalo, deer, alpacas, and many others.
Also, there is a section for birds like parrots, peacocks, turkeys, and other exciting winged inmates. While the ponies and donkeys can be ridden, you can carry the smaller sheep, rabbits, and the majority of the animals just to pet them.
Have some lunch at Mum Aroi
If you're looking to have delicious seafood right beside the sea, the Mum Aroi is a delightful restaurant to visit. The restaurant serves up fantastic varieties of seafood. The beauty of this restaurant is that as you eat your dinner in this busy restaurant, you can watch the fishermen ride their boats up and down the sea waves.
This restaurant is very popular with tourists who come in to have a quiet and relaxing evening with a glass of wine and the cool sea breeze.
Koh Larn
This island is located offshore South Pattaya. The island is truly a tropical paradise for tourists where they can enjoy clean and crystal clear water, completely transparent. Koh Larn is a special spot for tourists to enjoy a broad range of activities.
The Public ferry leaves frequently from Bal Hali Pier. For only 30 baht you can take the 45-minute ride to Koh Larn. You can also hire a speed boat for 300 to 400 baht and they can be found up and down the beach and also at the pier. Speed boats can be also be hired privately for larger groups.
Sea Walking
Sea walking is just the thing with tourists these days. You enjoy the best of the underwater creatures while exploring the sea bed. You literally "walked" the sea where you'll see dozens of fishes and corals. This is just a perfect place to come close to nature and still have a perfect picture of this fun and excitement just to remind yourself of this experience.
Water Buffalo Race
Chonburi, 70 km south of Bangkok is where this water Buffalo race festival is held every year. This event brings thousands of people to watch and cheer. This entertainment event has about 300 buffalo race in groups of fives or sixes with spare-back jockeys wielding wooden sticks.
This festival has always been part of the Thai people.
For farmers of this province, this festival is very important beginning in mid-October; it also doubles as a celebration among rice farmers before the rice harvest. The ceremony starts at dawn when farmers walk their buffalos across surrounding rice fields and making sure the animals are well hydrated before leading them to the race field.
This festival has been in existence since over a hundred years ago where history has it that it all started when two men argued about whose buffalo is the fastest. and thus a race ensued between the two animals. From then on, this race has become a tradition and gradually turned into a social event for farmers who lived within the neighboring communities to trade their goods.
The festival is also one of the reasons there is a preservation of buffalo lives which has been in decline at an alarming rate in other parts of the world. While modern machinery has gradually pushed the use of these animals away from the farm, the buffalos have now found a new way to entertain and that is through racing.
So buffalos reared in this part of the country are not meant for farm work but they are raised just for racing which is why it has turned into one of the best tourists attraction for people visiting Pattaya.
Experience The Pattaya Floating Market
There are lots of floating markets that you come across in Thailand. However, the one found in Pattaya is quite different from others – because of the name of the market 'Four Regions Floating Market' and this depict the four regions of Thailand – The north, northeast, south, and central.
This market is so unique that each section of the market sells a product that is commonly grown or associated with the region. This does not mean that all the stalls in these regions are floating; some stalls are boat store that moves around the canals and some are stationary stalls built along the banks.
The best way to enjoy this market is to hire a boat and paddle through the market to discover all that it offers.
Become Part Of The Art At Art In Paradise
Enjoy your stay in Pattaya by visiting the art gallery. The gallery is set up perfectly for visitors so that when you take a picture in the gallery it looks so real for instance, you're crossing an old bridge or you are in a magic carpet flying over the dessert – This by no means an ordinary art gallery; its a concept of making you become part of the artwork by series of optical illusions and clever tricks.
This Art In Paradise gallery is a great place to bring the children to have great fun and should be on your to-do list even as adults.
Climb The Hill At Wat Phra Khao Yai
Take time out to visit the biggest Buddha in the region. Wat Phra Khao Yai (Big Buddha Hill) this statue stands at 18 meters tall and is about 100 meters from sea level. From the top of the buddha hill, you can see the whole of Pattaya beneath you and if you look outward, you will see Jomtien Beach.
There is also a temple complex where incense is offered all day long with bells hanging everywhere. The temple is still very much in use to this day and therefore you should expect to see monks and the locals doing their things there.
Go Back In Time At Anek Kusala Sala
This museum was built as a sign of a peace pact between the Chinese and the Thai. This museum has within its walls over 300 Chinese brass and bronze artwork of historical figures from various ancestral deities which include Buddha and Tao. The museum is split into two with the second section having larger statues and the most noticeable of them all is the Shaolin Monks that were created to depict the various martial art poses.
There is also the status of dressmakers, liquor sellers, fortune tellers, and another status of interest in this museum.
Be Amazed At Tiffany's Cabaret
This show has been in existence for over 30 years and is held every evening. The Tiffany Cabaret shows entertain over two thousand people and it's an hour of non-stop excitement. The entertainers are known to perform scenes that depict every part of the world.
The Ladyboys' performance can not go unnoticed as they perform with such finesse which makes it almost impossible to spot that they are not real ladies. The show is also ideal for children to watch which is quite the opposite some years back as it is filled with so much roughness and indecent performance that parents dare not bring their children along.
Swim at Cartoon Network Amazone Water Park
This is another great place to have some thrilling rides and slides, especially for children. The Cartoon Network-themed water park is a great place to have a swim and also enjoy daily shows of popular cartoon network characters like We Bare Bears, Ben 10, The Powerpuff Girls, and Adventure Time.
The journey to this Amazone water park is about 20 minutes drive from Pattaya and it's located in Bangsaray.
Shop Till You Drop At Central Festival
The Central Festival is the biggest and one of the most important shopping destinations you can find in Pattaya. The stalls at this mall sell the most expensive designer products in Pattaya. And there are lots of designer shops to choose from in Central Festival – from Calvin Klein to Armani, they are just two of the famous brands that have shops here.
The shopping mall is so big that you can spend the whole day walking from one floor to the next shopping and doing sightseeing.
The mall also offers a ten-screen cinema including a bowling alley to relax if you get tired of shopping. Also, there are lots of restaurants with every cuisine from all around the world.
Pattaya City Thailand Daytime Activities and Hotspots Conclusion: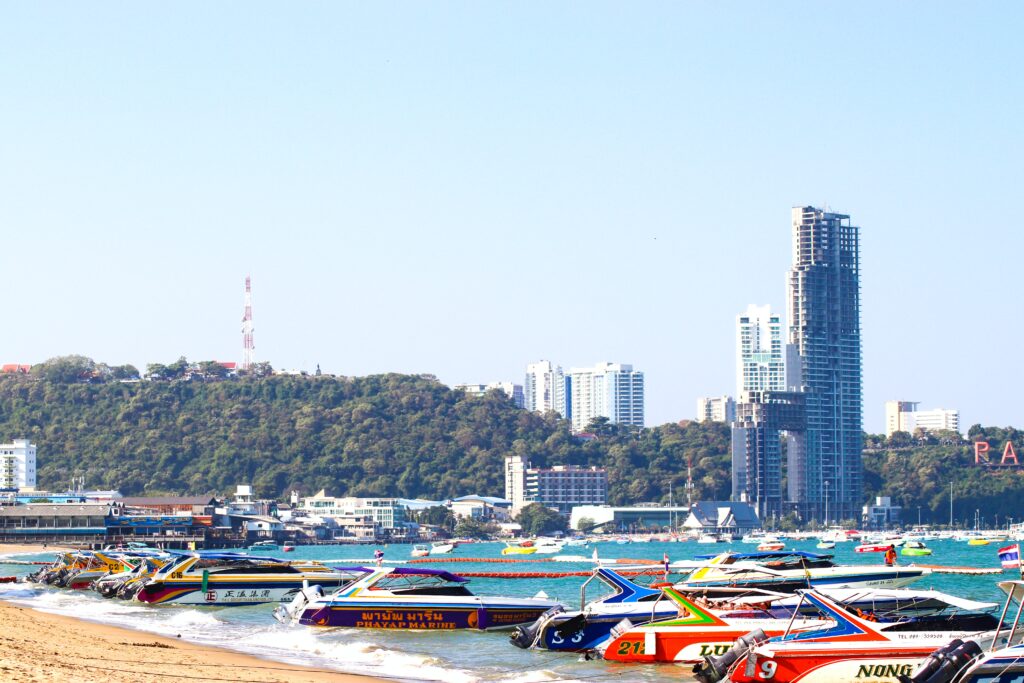 This is definitely a long list of fun and exciting places you can visit while in Pattaya City Thailand. They are ideal fun places for tourists and I'm definitely sure you're going to like it when you visit here.
If you're interested in learning more about Pattaya City Thailand check out our Comprehensive "Getting Around Pattaya" Guide.
We also offer a Booking Page if you're curious as to what you're First or Next trip to the "Land Of Smiles" is going to cost you! You can book Flights, Airport Transfers, Tours, and even Motorbike Rental!