There are a lot of rumors about Sex Tourism in Thailand and Asian massage parlors in general, most of which are absolutely true! Of course, it's not safe to assume that they all fall into the category of providing full-service options. There are plenty of establishments with working professionals who will give you the best massage of your life and nothing more. Sometimes that's all you need after a long night of partying. Other times, the massage is the party!
Now, if it's your first time visiting, you will find that the vast quantity of places where you can get a body to body massage in Thailand is mind-blowing. Quite honestly, you may feel your head start spinning and feel like a kid in a candy store but you want to slow down, take a step back and allow yourself the opportunity to find the perfect establishment. This is especially true if this is your first experience.
How are they Different?
The first thing you should know is that words like acupressure or sauna often coincide with a happy ending. This is not to be confused with acupuncture! Asian massage parlors are different than those you may be familiar with within your country in quite a few ways.
First of all, there's a selection of girls all waiting there just for you to pick them! Depending on the type of venue, they may be all behind a glass window or they could be in casual uniforms just hanging out together outside the door.
Next, they often offer a body shampoo or table shower. This is where you lie on a table in a giant shower and they scrub you clean before they even start the massage.
Also, the rooms look nowhere like a traditional massage parlor. They have a bed, bathtub, rubber mat, and a blowup mattress which comes in handy for an oil massage. Sometimes they are not even a real room but rather a cubicle and you have to share a bathroom. These aren't so bad unless you are really shy because you can hear what's going on next to you and they can hear you too!
Of course, the biggest difference between Asian massage parlors and the ones in other places in the world is the services they provide. There's a reason why the term happy ending is used. These girls send you off with a smile.
It is important to note that when you pay for your massage upfront, that is all you are buying. Any extra services that you desire from the girl will be negotiated once you get in your room and you pay her directly, not her mamasan or supervisor. You also have to provide a tip whether you buy extras or not.
Bar Girls in Thailand
While you may think you can make bar girls in Thailand fall madly in love with you and want to come with you back to your country, you should know your role! For most girls, you are simply a walking wallet. Sure, there are fairytale endings but you need to be realistic about your intentions before going there. Also, if you think you are going to be someone's knight in shining armor and rescue them from a life they hate, think again!
Most women are there by choice and enjoy their occupation so while it is possible to find yourself in a relationship after your adventure, it's not all that easy. Nearly all bar girls in Thailand are there because they want to be. Of course, there are alternative jobs that they could get in supermarkets or factories, putting in a full day of work, the wages cannot compare to what they make while having fun all day and night.
Not to mention, these are traditionally uneducated, poor girls, what else could they do and make money to support themselves and send to their families back home? Village girls from Isaan know what they are getting into when they board a bus heading to Pattaya or other designated areas and most will leave within a day and go back home if they can't handle it.
Not to mention, a lot of bar girls in Thailand have cousins and sisters already employed somewhere so they just go and work with them. There are no pimps involved like in western countries and most girls are from such conservative families that their parents would never think that they were working as prostitutes.
This is not a reputable occupation and many girls continue living a more traditional lifestyle outside of work and simply tell their families that they are working in hotels or restaurants.
Are These Bar Girls Being Exploited?
Not a chance! Bar girls in Thailand know what their job includes and if they choose to work only in the bar playing games and selling drinks, they can do so. They are there for a reason and most make a decent living as sex workers.
A Thai girl working in a factory would be lucky to make 200 Baht per day while a bar girl has the opportunity to make 1000 Baht in one hour. Not to mention, these girls can choose their customers, a privilege women in the same position elsewhere in the world don't share.
Also, for those wondering if they are all underage like you may imagine, the answer is definitely not! Asian women have a way of not aging. Most are in their 20s and some are even in their 40s but you would never know it. Also, most bar girls in Thailand have already been married and have one child who they send money to as they live with their grandparents.
Do They Like Their Job?
The large majority of these girls love their jobs and work in a bar with relatives which makes it even more enjoyable. It is definitely not a hard job and it doesn't require excessive physical labor or an education. Bar girls in Thailand basically just hang out, when they're not providing sexual services so spending time chatting, opening a bottle of beer, or watching television, is not too challenging.
Since certain areas of Thailand have become tourist destinations specifically for sexual reasons, many girls have developed a money-oriented, professional attitude. Although most make good wages, never pass up the opportunity to tip when deserved. Keep in mind that these girls often send the majority of their money home to support their child and their families.
Thailand operates on a traditional system that requires children to help support their families if in need so even some of the highest-paid girls live on a very minimal income.
Personality
Most Thai girls working in bars are quite typical of their culture. They are definitely not submissive like you might think but rather jealous, moody, bossy, and dominant. Because of their jealous and aggressive behavior, don't think that it is acceptable to take one girl out of a bar and then attempt to take a different one from the same bar the next night.
Chances are, you will end up in the middle of a brawl so do yourself a favor and pick one of the many other available bars to go to.
As long as you use common sense and don't instigate a jealous battle, you will find the bars quite enjoyable. Some are so comfortable and casual that it almost feels as though bar girls in Thailand are actually girlfriends just there hanging out with you, not just there to have sex and take your money. However, isn't that what most girlfriends do anyway?
Bangkok Bars
Bangkok bars are what make the nighttime in the city so electric! Here you will find a huge assortment of sexy and wild Go-Go bars, banging night clubs, classic western-style pubs, and a whole lot more. You will witness how empty alleys and streets transform themselves and come alive with vibrant and colorful nightlife, offering live jazz, beat pounding hip hop, or trendy electronic music.
While Bangkok does have a reputation for being obnoxiously loud, there are still places you can find with a bit quieter music where you can sip a few cocktails and relax after an eventful day in the city.
Most Bangkok bars close around 2 am but if you want to continue to party, there are many venues such as Mr. Wong's and Insanity Nightclubthat are happy to keep their doors open. You should know that finding after-hours bars in Bangkok is no easy task because most are inside the Soi on upper floors with their shutters drawn but if you ask around, someone will point you in the right direction.
Go Go Bars
Although the city is famous for the unparalleled beauty and mystery of the endless amount of temples and colorful markets, the city's wild nightlife is what lures in most tourists. Bangkok bars attract millions of people annually from every inch of the world. Go-Go or Agogo bars are found in Bangkok's red-light districts and are well stocked with some of the sexiest Thai girls you will find.
Contrary to Bangkok's naughty past, nudity is not legally permitted anymore on stage but there are enough underground facilities that are happy to challenge this restriction and continue to provide the most explicit and extreme shows you will ever see. The best places to find these types of Bangkok bars are Nana Plaza and Soi Cowboy located on Sukhumvit road.
Pubs
Believe it or not, the pubs in Bangkok are just as busy as the clubs. These are the places where you can chill, play some pool, watch television, have a few drinks, and chat with the girls. They provide an at-home appeal in a foreign land.
The Bangkok of today provides these comfortable establishments with a better assortment of beers than what you're probably used to at home. Whether you have a craving for American, British, Irish, German, or even Thai beer, you will always find a place to quench your thirst and as a bonus, they're relatively cheap!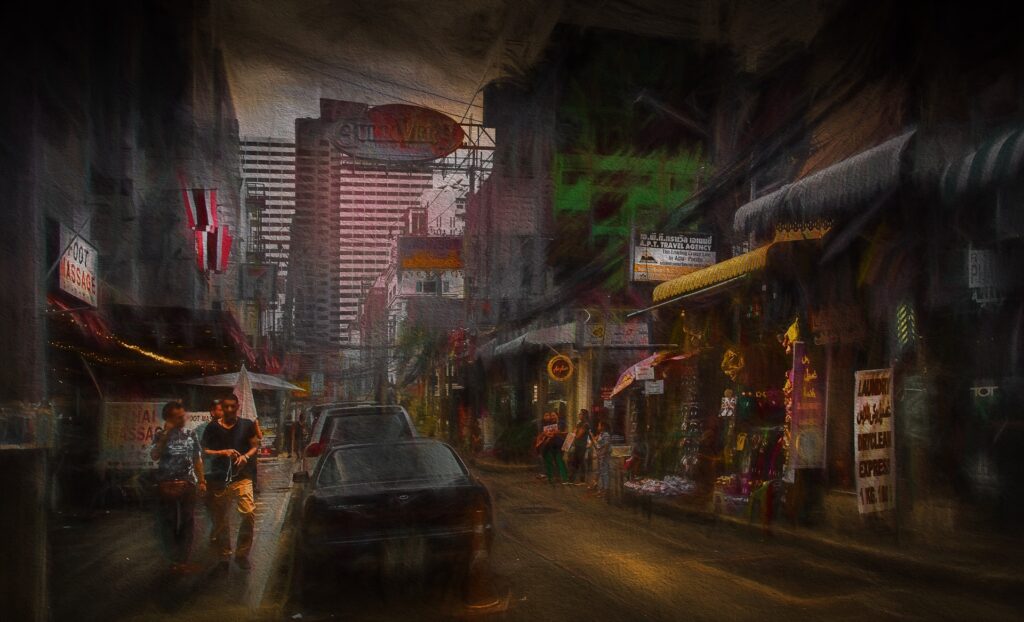 The biggest cluster of western-style Bangkok bars is found between Prom Pong BTS stations and Asoke in the Sukhumvit area. Some of the most popular ones are Beiotto, The Dubliner and the London.
Clubs
If you are in the club scene wherever you live, you truly haven't experienced it until you have partied in Bangkok. Clubs here provide entertainment for every budget and the range of live music is as diverse as the liquor delicacies that they offer. Great ambiance, ear-blowing sound systems, and wicked DJs are what you'll find here and very few have a cover charge.
There isn't a strict dress code however depending on the venue, you may get an eyebrow raise if your apparel is too casual. Anything goes at clubs in Bangkok but dress to impress.
Bangkok Girls
As you probably expect, when someone refers to the term Bangkok girls, they are traditionally talking about the endless supply of prostitutes that are available virtually everywhere. While the GoGo scene is a bit tamer now than what it once was in Bangkok's legendary days of their naughty past, it is still entertaining.
The girls in GoGo bars are available to leave with you and are typically stunning compared to beer bars but they are more expensive and can often lack enthusiasm. However, regardless of their personalities, nearly-naked, slim-figured Bangkok girls remain a popular attraction.
Nana Plaza, Soi Cowboy, and Patpong are the popular places to go to find hundreds of girls who spend their career on stage every night.
Where is the Enthusiasm?
It is said that some of the most excited girls are found in Pattaya, perhaps they are fresher, just off the bus there where Bangkok is more for the professional who is looking to make more money. Many of the GoGo girls in Bangkok shuffle around a bit on stage by a pole and look uninterested but there are a few places such as Playskool in Nana Plaza and Soi Cowboy's Long Gun Bar where you can find a choreographed, sexy show filled with acrobats.
How it Works
When you step inside bars you find a stage with Bangkok girls on top dancing. If you can't find a seat yourself, the waitresses are usually quite helpful to find you one. Most of the girls have a schedule of when they need to be on the stage so if you buy a lady drink for a girl, don't be offended if she springs up and leaves suddenly
Most men face the dancing stage, sitting alone and it is usually loud and dimly-lit. Waitresses will insist on you buying drinks and dancers will always ask for lady drinks. At any time, you can choose one of the Bangkok girls to come and sit with you. In most places, the tab will always be placed in an appreciated holder in front of you so you don't have any surprises when you go to leave.
If you want to take a girl with you then you will be required to pay a bar fine which is usually between 300 Baht and 500 Baht and away you go. Now, this price is only to get her out the door so it is a good idea to negotiate fees before you leave because these can run up to 4,000 Baht depending on what you're looking for and the length of time.
Where to Find Bangkok Girls
Prostitutes are Bangkok's most popular attractions. They are known as bar girls and are restricted to certain areas where prostitution is allowed. These are called the red-light districts, only there are no red lights. These girls are fun, sexy and some even speak a little English. They are equipped with the easy-going, soft-hearted attributes of Thais only they are in it for the money and if you are not generous they can turn sour. Prostitutes in Bangkok are found in:
Nana Plaza
This is the busiest and certainly the most entertaining area. It's off Sukhumvit road on Soi 4 near the Nana BTS Station. Once you step inside, there are many open-air and discrete bars where you can wander in and take your pick. You can also find freelancers on nearby streets but this is never recommended.

Soi Cowboy
Off Asoke road is a lane near Sukhumvit road and not too far from Nana is where you'll find Soi Cowboy. The hookers are more down to earth here and there are fewer tourists. It is very similar to Nana Plaza where you can wander from bar to bar, play pool, buy drinks and find your lady of choice except the girls are much cheaper here.
Patpong
Here is the original and still the most popular red-light district to find Bangkok girls. Patpong is two lanes that run parallel off Silom Road. The area has become a bit touristy due to the large market nearby selling fake goods at nighttime. These girls are the most expensive in Bangkok and definitely some of the sexiest.
Sex Tourism in Thailand
Nearly everyone immediately thinks of Bangkok when the topic of sex tourism in Thailand comes up but there are so many other places to go as well. Sure, Bangkok offers the infamous Nana Plaza as well as Soi Cowboy but why limit yourself to one or two highly populated locations when you can find just as much fun elsewhere, often with less of a crowd and smaller bar fines.
Karon Beach
Patong Beach is about 10 minutes to the north of Karon Beach yet the area often gets overlooked for sex tourism. Although not as big and bold, Karon does offer a fun nightlife off Luang Poh Chuan Road. There are no fancy clubs, discos, or GoGo bars but there are an abundance of simple beer bars that are full of girls eager to play pool, watch television, have a few drinks, and leave with you.
There's also a high-end entertainment area on Aroona Karona Road at the Aroona Complex; during the day this area is full of tourists enjoying shops and restaurants but things come alive at night.
Kata Beach
Traveling a little further south from Karon Beach, you stumble across Kata Beach, another overlooked sex tourism in the Thailand area. There's a down-to-earth atmosphere here as the area does attract a lot of tourists. However, to find the girls, you'll stick with the cluster of roughly 20 bars off Thai Na Road that are known as Kata Night Bazaar. Need an escape from the party? Dino Bar and Restaurant is a hot spot that features miniature golf.
Kamala
Sex tourism in Thailand can be found at this small beach that's just north of Patong Beach. The bars are fairly modest when compared to Bangkok's standards but there is still fun to be found. Here you'll find a lot of bars crammed into a small area including a beer garden and many outdoor establishments. Surin Beach is also nearby if you want to explore, this is a high-end resort area today but the land used to be owned by a royal family.
Chalong Bay
South of Phuket Town and on the east side of beautiful Phuket Island, you will find Chalong Bay. Expect rows of bars with plenty of outdoor seating here. This area is also known for its array of restaurants that cater specifically to British, Swiss, French, German, and other European nationalities.
Phuket Town
With the exception of Chalong, Phuket Town is about the only other area on the east side of the island where you'll find sex tourism. In Thailand, the area is often referred to as a mini Patong Beach. Although it's just a touch more conservative, it is a haven for single men.
Samkong and Rosada Road are the places to go to Phuket Town. These areas are known for plenty of live music and girls. In fact, you'll find the Timber Hut in the Sankong Area, an establishment classified as a discotheque so you just know it will be a good time! Additional bars include Ozone, KorTor Mor, and The Peak. If you are looking for a soapy massage, you can get one at the Pearl Hotel found at 42 Montri Road or on Tilok-U-Thit Road at the Grand Plaza Hotel.
Rawai Beach
If you are in the southern part of Phuket Island, you must stop by Rawai Beach. Many people don't have any idea that there is sex tourism in Thailand here but there certainly is. You will find few crowds here but a lot of regulars who are happy to welcome you to their neighborhood bars. Many of the bars on the road that runs along the beach serve some delicious native cuisine as well.
Thanks for checking out our Sex Tourism In Thailand Information Guide!
If you found this informational entertaining and want to learn more about Sex Tourism In Thailand and Thailand Sex Culture please check our Pattaya Sex and Travel Guide for First-Timers here.