Pattaya is one of the easiest places to get around on foot; Getting around Pattaya for the first time, I only walked. It's quite easy if you're determined because most of the beach hotels, shops, bars, and clubs are mostly located in an area that spans little more than a kilometer.
However, this is not to say that the transport facilities in Pattaya are bad – this is the opposite.
Getting around Pattaya isn't too difficult, the transport facilities are quite reliable, regular and very cheap – you will probably see no reason to make such walks just to enjoy the view of Pattaya.
Getting around the beaches for instance to Jomtien or Nuklua is an extremely easy task.
So, if you're planning to travel to Pattaya soon, you'll notice that there are many ways to go about getting around the city. While some modes of transportation in Pattaya are very common to tourists, some are not so common.
This is why we wrote this guide with tips on taking advantage of the types of transportation services you will find available in Pattaya.
Getting Around Pattaya By Motorbike
If you want to be adventurous in Pattaya, renting a motorbike can be a good option. Although some consider it a foolhardy way to enjoy Pattaya but considering that moving around the town on a motorbike will cost you between 150-200 baht for a day and that is on a 100/125 cc model.
You can also rent a 750cc or the 1000cc bike model for 500-2500 baht a day. That's just a great bargain and a fanciful way to move around the city.
To rent a bike, you will need to show proof that you can ride one without causing an accident, which means you will need to show proof of a valid license – a Thai license or an international license will do for this cause.
The rental agency where you rented the bike might not ask you for a license at the start when you want to rent the motorbike, however, if you have any unfortunate incident that occurs or you meet the Thai police, they will likely pull you over to ask for it, and if you don't have one to show, you will be charged and most likely fined too.
The fastest way to get noticed by Thai police and get stopped is when you are not wearing a helmet while driving the motorbike. Helmets are mandatory for bike drivers in Thailand.
The law in Thailand requires that motorbike riders should make sure the bike headlights are on all the time.
Accidents are very common in Pattaya and that is why it is very important to know how to drive a motorbike before you go renting one.
If you are a learner and you're hoping to perfect your driving skills on the roads of Pattaya, you might find yourself on the other side of the law if you mistakenly hit someone and it was later discovered that you don't really know how to drive a motorbike correctly or you don't even own a license for one.
This is why it is best to learn to drive a motorbike elsewhere before coming to Pattaya.
Renting A Car
There are lots of car rentals in Pattaya including both the local car rental services and the internationals. Companies like Budget, Hertz, Avis, National, etc have their stations located around Pattaya.
The most popular car for rentals in Thailand and the one that is most used by tourists is the Suzuki Jeeps. These types of vehicle rent for about 1000 baht from local service stations while you might likely pay more if you are renting from international agencies.
Just like the motorbike, you will need a valid driving license to safely drive your rented car in Pattaya; although your local agency might not ask you to show one when renting the car, in cases of accident, the car agency will tell you that you have invalid insurance coverage on the car because you don't have a valid license.
Motorbike Taxi
In Pattaya, there are lots of motorbikes that fill the roads. This is likely attributed to congested roadways. The operators of these motorbike taxis can easily be spotted with their colorful vests and can be flagged down along the street or boarded where they are sometimes camped on street corners.
The fares are usually between 30 – 40 baht for trips within the Pattaya areas – this fare is much cheaper when compared to transportation like car taxi. However, the car taxi is much safer as you are covered by the body of the car and hopefully strapped in with a seatbelt.
Here are some tips when you're taking a Motorbike Taxi while Getting Around Pattaya:
There are no flat rate prices for a motorbike as prices will depend greatly on how you can negotiate. Besides, every driver is different.
However, distance is a great determinant of how much you are likely to be charged but 40 baht is a pretty standard fare to pay within Pattaya city.
Confirm if the driver has a spare helmet for a passenger – you don't want to be among the very unfortunate that has a motorbike related accident.
In Thailand, motorbike accidents accounted for most of the road accidents in the city with over 80 people dying every day from these incidents. So, the more you can protect yourself, the better.
Ask the driver to show you his driving license – if your driver does not have a drivers license and is pulled off the road by the police, you will likely waste so much time waiting for the driver to go pay the fines before you resume your journey and at times, the waiting might take too long that you will need to take another motorbike to get you to your destination.
Riding On The Songthaew
This is the most popular form of transportation in Thailand – this is a dark blue color pick-up truck with two benches firmly placed at the back and a cover on top.
Commonly referred to as "baht buses" by many locals, the official fare within Pattaya on this bus ride is usually 5 baht but if you are a foreigner, you are expected to pay double what others normally pay
Baht buses can convey up to 10 or more passengers and they are usually driven in designated circles and when you need the bus to stop so you can get down, you simply press the button above your head and the driver will pull over.
If you are going to pay for a fixed fare, this means the songthaew will only follow a set route just like a bus, however, if you need to have the bus take you somewhere else off its route, then you will need to bargain for a price.
The most frequently used route is the circular road along the beach road then to the second road from south Pattaya where it turns left again and travels straight to the beach road.
On Dolphin Circle roundabout, it travels to Beach Road and begins the journey afresh.
The fare from North Pattaya road station to points along the BeachFront and Second Road is B20. the same price goes for Songthaew from up and down Sukhumvit Road – which is the main highway to Bangkok including the journey to and fro the airport at U-Taphao. These Songthaew buses are white in colors.
Here is what you need to know before you cruise on a Songthaew:
If you are traveling as a group you are better off looking for an empty baht bus or songthaew – This is because you can alter the normal routes that these buses take and since you are with your group, the bus driver can take you to where you want to go directly for a pre-negotiated price. This way you save some money if you have then used a taxi.
Ask the bus driver where he is going before boarding the bus – this will save you the worry of getting lost or not getting to the right destination.
If you don't know the area you are going very well, it's advisable to get a local map or use your phone GPRS to see if your destination coincides with where the driver says he's going.
You pay through the passenger side window before you get down from the back.
For short distance journey, the starting rate is 10 baht.
Going By Taxis
Most taxis in Pattaya are Taxis from Bangkok with Pattaya destinations. Taxis are particularly useful if you are traveling a bit farther than a few blocks but you will need to negotiate the price. There are also minivans for longer trips into Pattaya surrounding areas.
Boarding a taxi in Pattaya is almost like doing it anywhere else in the world. You can hail one from the sidewalk or when you arrive at the airport – pack your luggage in the trunk, jump in and tell the driver where to take you, then you're off.
Most times, your trip to your destination may go smoothly without any hitches and sometimes it might not. however here are some useful tips when getting in on a taxi in Pattaya:
Before getting into the taxi, it is important to take note of the taxi's plate number, and once inside the car, you can take a photo of the name plaque on the dashboard.
Also, the name of the taxi company including other contact information will go a long way if you ever need to get in touch with the driver or the company. Not to forget also the phone number of the taxi driver – if possible.
Reason for all these:
A few weeks ago, a tourist staying next to me in my hotel lobby was expecting his sister from the United States. While on arrival at the Bangkok airport, she took a taxi from Bangkok to Pattaya and probably due to jet lag and probably also because she got to the hotel late – 4.00 am – she left her most valued asset in the backseat of the taxi and only got to find out when the taxi man had driven off.
Frantic, we all tried searching for the taxi including calling the airport, different taxi agencies but because we didn't have the right contact information, the search was unfruitful.
However, as luck will have it, the Taxi driver shows up the next day with the item that was left in his car – he drove from Bangkok.
This is not how taxi drivers behave in any climate, this was just an exception. In some cases, the item would have been lost forever. So, whatever contact information you can gather about your taxi and the driver, the better.
So also make sure that when you are getting down from a taxi cab, you double-check that you are not leaving anything behind inside the taxi before the taxi driver drives off.
If you don't want to be bothered about directions to your destinations, it's better to take a taxi from the taxi service company provided by your hotel/resort. – this is because some taxi drivers from the airport might not be too familiar with the routes to your destination and using your hotel' resort taxi service the driver will know exactly how to navigate the roads and the street until it gets to your hotel and if not the hotel staff station there will be of great assistance if the need arises.
Moving By Boats or Ferries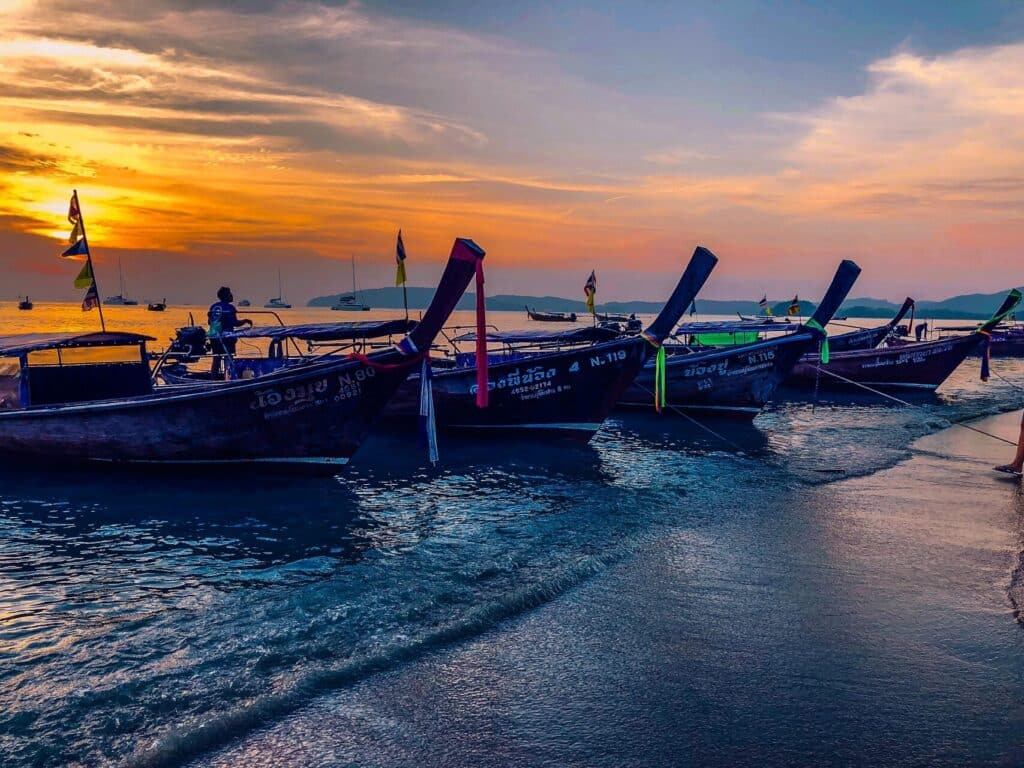 Koh Larn or the Coral Islands are the most beautiful tourist attraction in Pattaya. The beaches are both white sands with clear clean water with other numbers of water activities that should make your stay a memorable one. You can get to the island from Pattaya by speedboat within 15 minutes.
There are speedboats on rental in Pattaya beach or from Bali Hai Pier located at the end of Walking Street. There are also ferries to Coral Island which is about an hour's journey.
Here are some useful tips before you set sail:
Before you leave your hotel or resort, check for the weather update – while the weather in Pattaya is usually sunny during the high season, however, some days do come with a heavy downpour.
And the last thing you will need is to head over to an island during a downpour because the speedboat ride will definitely be unpleasant and also you could waste away your time spent on the island if you are going to be locked indoors.
Ask your Hotel' Resort for any deals – during high season, you might find it pretty difficult to book a speedboat or a spot on a ferry just to see the islands.
Your hotel is likely to tell you the right people to call or contact so that you could get a spot or book a boat and also enjoy your island adventure.
For instance, some hotels offer their catamaran service that takes you straight from your hotel to your desired island. These boats are equipped with trained staff and will assure you of knowing that you will have a good sail.
Also, your hotel can arrange for other engaging activities on these Islands like scuba diving, snorkeling, or specific sightseeing. They also provide catering service while you are on the island as well as sunset cocktails so you can have the best of time while on the island.
Getting Around Pattaya Conclusion:
Pattaya is a wonderful place to visit with accessible transportation means to travel around. We believe this guide will be of help when you are trying to get around Pattaya on your next trip.
If you're interested in learning more about Pattaya please visit our Pattaya First Trip Guide for more info!
One more resource I like to reference is Nomadic Matt! Check out his Thailand Travel Guide for a more in depth look on Thailand Travel.
Checking out our Booking Page for Awesome Deals On Flights and Hotels Transfers!