Koh Samui is the third largest island in Thailand. The tropical paradise island often refers to as the coconut island because of its big coconut palm tree forests. Koh Samui is part of the Surat Thani province and the island has a population of more than 50,000 people.
Every year this tropical paradise attracts more than 1 million tourists from all over the world and that is not without reason. Koh Samui is the real paradise in many ways and even though you will find places with lots of tourists you will still be able to find very quiet locations as well.
Koh Samui offers something for everyone. Luxury resorts and hi-class restaurants can be found in many places on the island as well as low budget bungalows right on the beach. Of course, you will find everything in between.
When staying on Samui you will live among the Thai people and along the ring road the everyday life goes on even for those who are not in the tourist business. At first sight, it is easy to think the island is habited everywhere and that there are hard to find places without houses.
That's because most people do not know where to go. Small roads lead away from the ring road and sometimes these roads are hard to find. The truth is that most of this island is covered with forest.
The island offers plenty of beaches, some with shallow water while on other beaches you don't have to go far to take a dive into the deep. The most famous tourist places in Samui are Chaweng, Lamai, Bo Phut, Choeng Mon, and Maenam. They are situated along the north and east sides of the island.
Along the west coast, you find Nathon, a very small town and also the only one on the island where many people come to dine in the sunset or to do some shopping. And further south on the west coast and all the way to the south you will find quiet as soon as leaving the main road areas.
At most beaches, you will be able to eat right on the beach and in the evening it is usually very nice to take a walk and eat at some of the restaurants serving food or drinks right under the stars listening to the sound of the ocean.
In Koh Samui, you will find small markets, big markets, shopping malls and you will probably find anything you need.
Some people claim that Koh Samui is more expensive than other tourist destinations, but I do not really agree. Some things tend to be slightly more expensive due to the fact that this is an island and many things have to come here by boat. But remember that you can still get food from the market for 10 Baht and sometimes you don't have to go far away from the tourist streets to find prices far cheaper.
To get a meal for just over 100 baht in a restaurant is not impossible and even far below that. It all comes to what you are looking for. You can also eat extremely luxurious food in top-class restaurants.
The Koh Samui airport is located just north of Chaweng and south of Big Buddha. The runway is now being extended to make it possible for larger aircraft to land and take off from here. The Koh Samui airport is quite spectacular and it looks almost like a giant bungalow but without any walls. The small terminal only has a beautiful roof and it all looks very exotic.
TRANSPORTS
It is very easy to get around on Samui even if it is one of them, or the, most expensive part in Thailand to go by taxi. The minimum price is in general 200 Baht and it is hard to go by a taximeter. There are also possible to get a ride with songtaews which are pick-up trucks with seats and roof on the truck bed. The pricing for songtaew is lower than the normal taxi why most people on Samui use these transportation options.
The songtaew at Samui will have a price list at the back of the window but after 18:00 the prices can vary.
Remember to always have the price set for your transport before you take off, this is only to prevent you from getting a price you did not expect. Normally it is cheapest to use a taximeter if possible.
You can also rent a car or a motorbike to explore the areas by yourself. Remember that the traffic is probably not what you are used to and accidents are common.
For more information about car and motorbike rentals please visit the Rent a Vehicle section.
SEASONS – Koh Samui Thailand
Weather For Koh Samui
Koh Samui – Another great thing about Koh Samui is that the weather is often very good all year round even in the summer making it possible to enjoy the blue sea and white beaches without any waves most times of the year. In October and November it is usually raining a lot and sometimes in parts of May will have some extra rain.
Koh Samui does not have any extreme dry season but on the other hand, this is a top option most of the year, it is not a coincidence that so many people come here all year round.
BEACHES
Going from Nathon clockwise the most popular beaches are:
Bang Por – A quiet beach along the northwest coast. The beach changes its name in the east to Ban Tai beach. Bang Por beach is about 3km (1.9 miles). This area offers small restaurants along the main road and the beach is also very quiet.
Ban Tai – This stretches from Bang Por in the west to Maenam in the East. The beach is about 2 km (1.3 miles) long and the area is very quiet. Many resorts will be found along the beach, both simple bungalows as well as more luxury alternatives.
Maenam – This 5 km (3 miles) long beach in the middle north of Samui is a popular location for people who want relaxation. Along the main road is numerous restaurants both for locals and for tourists. The many small roads away from the main ring road make many resorts very well hidden.
The beach is a natural beach without sunbeds and the palm trees are stretching themselves out over the beach along the shoreline which turns this area into amazing scenery. The beach is not very wide and in some places, there might be rocks. Since this beach is very long there are places where the water is shallow and others where it gets deep fast.
Bophut – Another popular destination in the north of Samui. The beach is 3 km (2 miles) long and many resorts are to be found at the beachfront as well as away from the beach. In the east of Bophut, the old Fisherman Village is located as a center point with restaurants and some shopping.
The water will at some parts get deep fast but at other places, the water is more shallow. Even if Bophut as well as other locations along the north side are quiet there is a little bit more commerce here.
Bang Rak – Also known as Big Buddha Beach is almost 2.5 km (1.5 miles) long at the southwest of the Big Buddha and continues as a more empty beach in the northeast side another 1.5 km (1 mile). The beach tends to tilt a lot down towards the water in the west and the sand is mixed with gravel. At the west end, it is quieter, and also there used to be Thai people dining and relaxing by the public beach.
In the middle and right east of Big Buddha, there is more commerce. At the beachside, many small bungalow resorts and also some bigger ones are located and plenty of restaurants, bars, and some shopping are available here. One of the everyday markets is to be found in the far east side of this area where fruits, fish, and spices are sold for a good price.
Choeng Mon – On the very far north east part of Samui this wonderful beach are located. The beach is a perfect beach for children with shallow water. The beach is 1km (0.7 mile) long with several restaurants. Along the main road many shops and restaurants are found even though this part is considered very quiet. Just 100 meters (350 foot) outside of the beach there is a very small island named Koh Fan Noi.
This island is only 240 meters (800 foot) wide and it is possible to wade all the way across to the island. Choeng Mon gives a village feeling, secluded from other beaches though it is very close to Bophut and to Chaweng.
Chaweng – The number 2 place on Samui. With hundreds of bars and restaurants, this beach is housing most of the tourists. This is a Mecca for those who like shopping or partying. Along the beach are resorts and by night they set up for food making the beach a very exotic restaurant area. Enjoy a drink or a dinner listening to the sound of the ocean.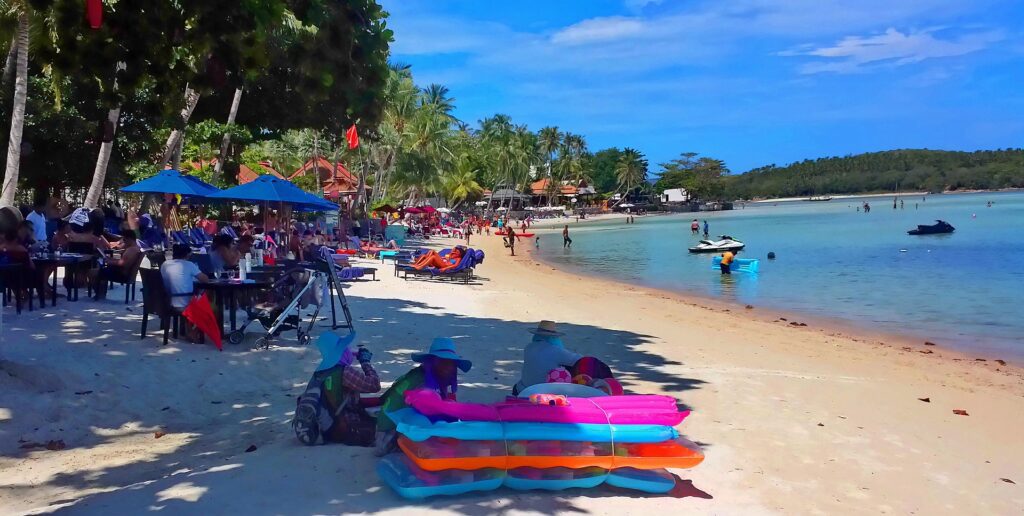 Here you also find the big shopping malls as Tesco Lotus and just north there are Macro and Big C where you will find food and some clothes and also many other stores are located in the area. Chaweng beach is a busy beach where you will find jet-ski and paragliding. The beach is wide 5 km (3 miles) long and outside the middle and north part, there is a reef and a very small island named Koh Matlang taking a lot of the waves away and the water shallow making this a safe place to play around.
Chaweng Noi – Right south of Chaweng this 700 meters (2000 foot) long beach is set. The beach is divided from Chaweng in the north by a smaller cliff and it is very quiet here. When the tide is low parts of this beach becomes very rocky.
Thong Takian – A very small paradise beach about 250 meters (800 feet) long. This beach is set in between rocks and cliffs and the rocks are very round shaped and the water is shallow. This paradise beach is extremely beautiful and is found in the very north part of Lamai. Only a few resorts and restaurants are set on this beach and the distance to Lamai center is not far.
Lamai – The second largest tourist destination on Samui. Lamai beach is about 4 km (2.5 miles) offering a wide range of resorts in all classes as well on the beach as on the hillside. Bars and restaurants of all kinds are found here and even though it is smaller than Chaweng this beach has its own life.
For those who want a time of relaxation with everything in reach, this beach is perfect. In the south end, the famous grandmother and grandfather rocks "Hin Ta Hin Yai" are found. In Lamai, you will also find the big mall Tesco Lotus.
Nathien – This beach is found in Hua Thanon. The beach does not have that high energy feeling with attractions as other beaches while many things in reach. Some restaurants and quiet bars are to be found.
Bang Kao – is set in the very southern part of Samui. A beautiful and quiet location with great scenery of trees and the ocean are mixed with hills. Everything here is relaxed and you will find luxury resorts in various locations in the forests along the shore. Restaurants are of course found in many places.
The beach varies but at some places, the water is extremely shallow while in others it is perfect for that perfect swim. The beach is long, about 4 km (2.5 miles) and here you can find your own spot.
Thong Krut – This is a small place where you will live among the Thais. Many small houses and some resorts are found. Restaurants are located along the roads. The narrow beach at about 1.5 km (1 mile) is located close to the road and houses separate the beach from the road at many places.
Taling Ngam – Like most places on this southwest side of Samui Taling Ngam is as quiet and relaxed as the rest. Resorts are placed here and there but there is no core with commerce anywhere. Restaurants are found here and there and for shopping, you will have to go to a bigger place.
Lipa Noi – Just south from Nathon the district Lipa Noi set offering hillside and coastline where nice resorts and housing is found. This is a Thai location but as anywhere you will be able to find food and some tourists. The beach is narrow and you will not have to search for your own spot in the sand since this part is very empty.
POPULAR TRIPS AND ATTRACTIONS
Ang Thong National Marine Park – This marine park consists of 42 islands and the biggest one is Koh Phaluai and other main islands are, Koh Wua Chio, Koh Thaiphlao, Koh Mae Ko, Koh Samsao, Koh Phai Luak, Koh Kha, Koh Phi, Koh Wua Kantang, Koh Mae Yat, Koh Wua Te, Koh Naiphut, Koh Hindap, Koh Changsom, Koh Hanuman, Koh Wua Talap, Koh Huaklong, and Kho Ban.
The islands are made of limestone raising up to almost 400 meters above the water which has spectacular looks and there are many fantastic caves and the climate has formed amazing structures as taken from a fairytale.
Parts of the islands have Mangrove forests and in these places huge python snakes, and a lot of popular fishes. The water around the islands is very shallow and many different kinds of corals can be found here. The islands are located 25 km (15 miles) west of Koh Samui.
At the islands Wua Talap the office of the park is located at the northeast side and there is also a very nice beach here. On this island, you can visit the viewpoint and see all the islands lined up.
At Mae Ko, you can visit the big lagoon set on the north part. This lake is called Tale Nai and is about 250 meters (850 feet) wide.
The lake is connected to the outside water by underwater tunnels.
Experience the amazing scenery with corals, views, and a fabulous fauna of animals all at this marine park.
Koh Taen (Koh Katen) – Just about 2 km (1.3 miles) south of Koh Samui this island rises above the surface. Along the east side is a long beautiful beach with palm trees all along the shore. You can enjoy a day here with snorkeling and forest adventures and you can also book a mountain bike trip where you will see Mangrove forest, coral reefs, and temple.
Koh Phangan – This island might be famous for its huge full moon beach parties but it also has a relaxing side that can suit the classic family with children as well. 10 km (6.5 miles) north of Samui this island is set. It is slightly smaller than Koh Samui and the mountain tops do not reach the same heights as on Samui. Haad Rin is the famous party beach where the full moon party and other events take place. On these occasions, the beach gets filled with people dancing from dusk till dawn.
Besides this, the island is a relaxed paradise with a lot of beaches to suit everyone. You can also visit a lot of temples and waterfalls. Popular beaches are Haad Rin Nok, Haad Rin Nai, Ao Baan Tai, Thongsala, Ao Srithanu, Haad Salad, Haad Mae Haad, Ao Chalokhum, and Thong Nai Pan. For further information please visit our special Koh Phangan page.
Koh Tao – The diver's paradise. Two hours north from Koh Samui Koh Tao, or Turtle Island, is set. This small island has a lot of small beaches with resorts for a relaxing time. The island has the best diving spots in the Gulf of Thailand and there are a lot of diving schools to be found here. This is the perfect island if you like to find small paradise beaches, enjoy a drink at the beach or in a club but all in an atmosphere that breaths relaxation.
Popular beaches are Mae Haad Bay, Sairee Beach, Mango Bay, Hin Wong Bay, Cape Thian, Tanote Bay, Ao Leuk Bay, Sai Daeng Beach, Thian Og Bay, Chalok Baan Kao, Gul Juea Beach, Cape Jeda Gang, and Jan Som Bay.
Na Muang Waterfalls 1 & 2 – On the west side of Koh Samui you find these two waterfalls which can be nice to visit when you get tired from life at the beach. At Na Muang 1, about 30 meters (100foot) high you will be able to take a nice swim in the natural pool that the waterfall ends in. The distance from the parking is very short.
At Na Muang 2 you have to walk for 30 minutes or you can hitch a ride from the parking either by golf course cars or why not let an elephant show you around in his neighborhood. The name Na Muang comes from the purple rocks that are seen here. Muang means purple in Thai.
Big Buddha – At the far north area of Samui you find the classic Big Buddha. A big statue 12 meters (40 foot) high placed on top of a big podium which you can walk up to. There are also some smaller temples in this area but it does not have that classic beauty as most temples usually have.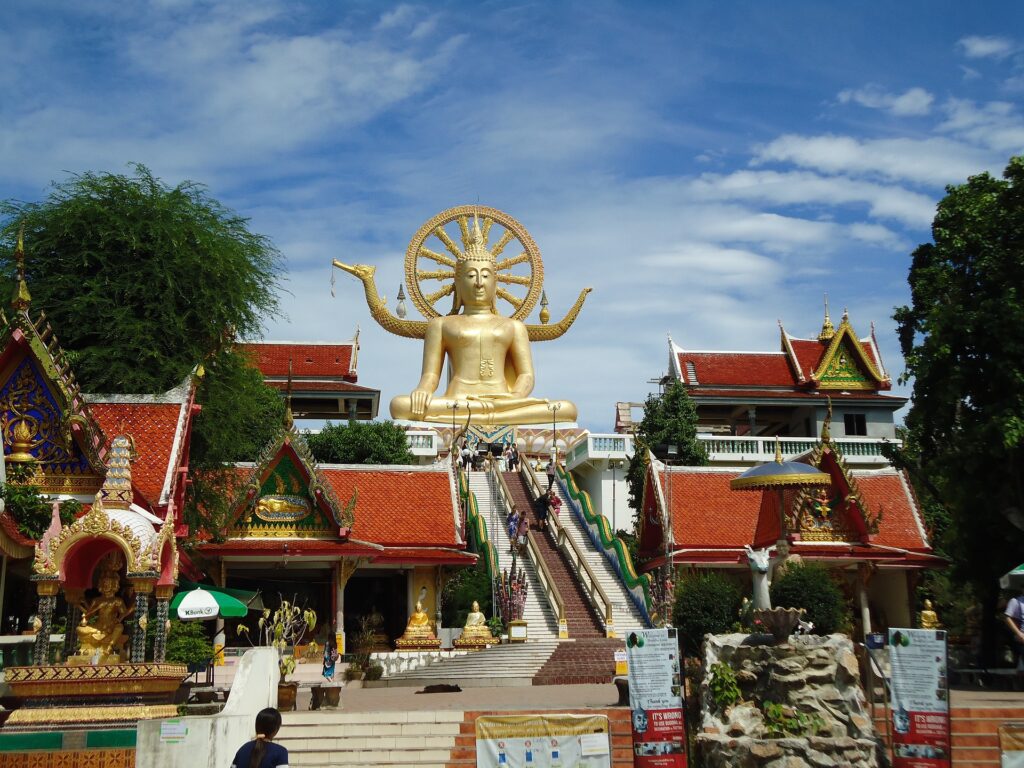 The temple area is set on a small islet which is connected by an unpaved road that leads about 200 meters (650 feet) to the main island. You will also find some souvenir shops and food places here.
Wat Plai Laem – This temple area is found just half a km (2000 feet) from the Big Buddha and if you look to the left there is a small classic gate above the small road that leads to this temple area. This road is very easy to miss. At this temple area, there are several big statues of classic Buddhism symbols.
The area is clean and there are almost never many people here. The temples here are very beautiful with the classic characteristic roofs and thousands of small details.
Canopy Cable Ride – Do you dare to dangle high up in the sky above a fantastic landscape and a waterfall, the cable ride adventure at Samui might be the thing for you. The ride is by the small waterfall, Secret Falls if going to Maenam and then up at Soi 6.
That was our Koh Samui Travel Guide!
If that was helpful and you want to continue learning about Thailand, you can read more about one of Thailand's wildest parties, The Full Moon Party on Koh Phangan click here.
If you're interested in Booking a Flight, Hotel or Renting a Motorbike then check here.